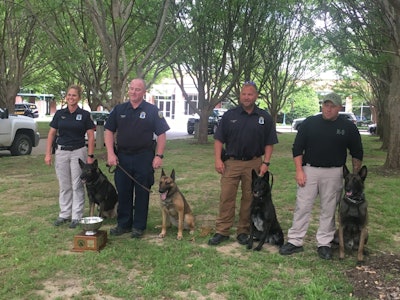 The Chattanooga (TN) Police Department proudly posted to Facebook news that its K-9 team won "Overall Top Dog" at the United States Police Canine Association Region 22 Spring Trials.
Officer Timmons and K-9 "Burt" earned Overall Top Dog, which means they earned the most points in Police Dog 1 and Narcotics Detection. Deputy Thompson and K-9 "Eddy" took First Place in Narcotics Detection.
"All four CPD teams in this year's trials earned their certifications. Congrats to all and thank you to the many sponsors who supported CPD in hosting this event," the agency said in the Facebook post.
Image courtesy of Chattanooga Police Department / Facebook.