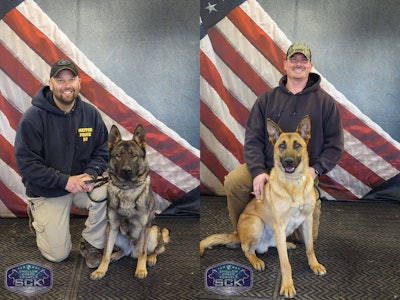 The Mentor (OH) Police Department recently welcomed to its ranks two new K-9s, posting the news of their arrival on Facebook.
K-9 Achilles is a year-and-a-half old German Shepherd-Belgain Malinois mix from Hungary. Achilles will be working with Officer Wurgler.
K-9 Bak will be working with Officer Mackey. He is a year-and-a-half old purebred Shepherd from the Czech Republic.
The agency said on Facebook that the K-9s and their handlers just finished up training
"They are dual purpose dogs - narcotics and patrol. They are trained in narcotic detection, suspect apprehension, tracking, article searches, and building and area searches," the agency said.
The new pairs of K-9s and handlers are expected to begin patrol next week.