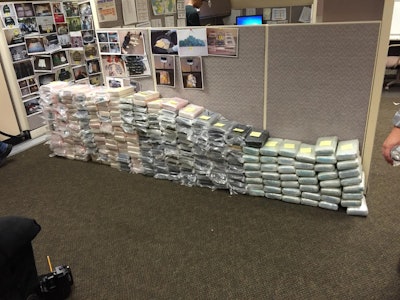 Six people have been arrested and charged in a drug trafficking ring that earned millions bringing hundreds of pounds of cocaine, methamphetamine, and other drugs from Mexico into the Los Angeles area, federal prosecutors announced Thursday.
The arrests were made following the seizure of roughly 690 kilograms of the narcotics—or about 1,521 pounds—over the course of 10 months of investigation by the U.S. Drug Enforcement Administration, according to the Department of Justice. That amount includes nearly 400 kilograms of cocaine, 225 kilograms of methamphetamine, 53 kilograms of fentanyl, and 12 kilograms of heroin, reports KTLA.
Authorities also seized $4.7 million in the federal investigation known as "Operation Colombian Cargo."
Among the six defendants are four Southern California residents while the other two are from New York City and Chicago. They are accused of taking part in a drug trafficking scheme that extended coast to coast in the U.S.
Three of the defendants have pleaded not guilty while the rest are still awaiting arraignment.
The six arrests, which were made beginning Tuesday night until Thursday morning, are part of a broader federal indictment that includes a total of 25 defendants.