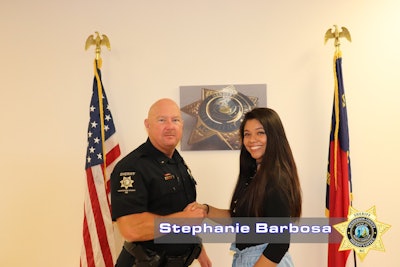 The Henderson County (NC) Sheriff's Office hired the agency's first ever Liaison Outreach Coordinator, a post aimed at improving communications through community outreach.
The agency recently posted an image of Stephanie Barbosa shaking hands with Sheriff Lowell Griffin on Facebook.
The post read, in part, "Stephanie was born in Mexico City, Mexico. She moved with her family to the United States at one year of age, when her parents made the decision to migrate in order to provide a lifestyle and opportunities for Stephanie that they would not be able to provide in Mexico."
Despite the challenges she had, she graduated high school and achieved one of her dreams of becoming a U.S resident. After graduation, she began working for a local attorney as a secretary/translator. There, she was introduced to the judicial system, and later offered a job at the District Attorney's Office. Stephanie comes to us with the experience of being a Victim Witness Coordinator and Criminal Judicial Management assistant (CJM) from the District Attorney's Office.
As Liaison Outreach Coordinator, Barbosa aims to build relationships and foster a mutual bond with the community.