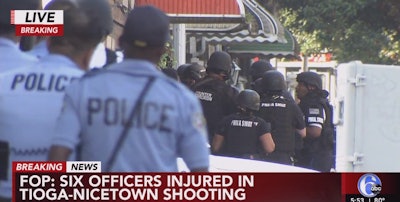 Local media is reporting that six Philadelphia police officers were shot Wednesday afternoon in the northern part of the city near Temple University.
One of the officers was reportedly shot in the head and is in critical condition. The critically wounded officer was reportedly conscious when he was taken from the scene.
CBS 3 is reporting that none of the wounds are life threatening.
The conditions of the other wounded officers have not been released. One was reportedly shot in the arm. Another officer was reportedly injured in an accident.
The suspected gunman is in a standoff with SWAT officers, according to live media reports from the scene. There have been at least five volleys of rapid fire, ABC reports.
There are reports the tactical officers are preparing to enter the building, which is reportedly a row home.
Fox 29 reports the gunman is shooting from a home and the incident may have been triggered by a narcotics raid by a task force.
Three people are reportedly in custody of two officers who sources say are inside the home.
The gunman is possibly moving up and down a stairwell in the home and firing on police from different levels. Or there may be two subjects firing from the home, some police sources have told Fox 29.
Local media says dozens of shots have been fired in this incident.
This is a breaking story and shots were still being fired as of 6 p.m. Eastern.
Crisis negotiators are on the scene.