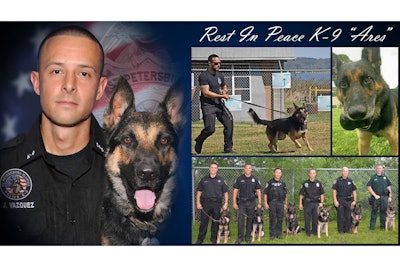 Officers with the St. Petersburg (FL) Police Department are mourning the loss of K-9 Ares, who was put down by a veterinarian on Saturday night.
K-9 Ares worked alongside Officer Jon Vazquez since they graduated the Pinellas County Sheriff's Office K-9 School. Ares was eight and a half years old and had worked with the department for six and a half years. During that period of time, K-9 Ares served as a dual purpose patrol and explosive detection dog. At the time of his death, he worked solely as an explosives detection dog at large-scale events.
The agency posted on Facebook, "With heavy hearts, the vet had to put Ares down last night during surgery for bloat, which is gastric dilatation-volvulus (GDV) complex."
The post continued, "Ares was a loyal and dedicated servant of the police department and the city. He was smart, fast and loved working... Ares will certainly be missed. The K-9 Unit and the Vazquez family are in our thoughts and prayers during this difficult time."