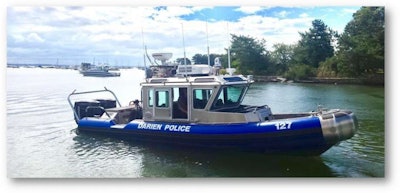 Officers with the marine unit for the Darien (CT) Police Department raced to the rescue of a young man whose kayak had capsized Friday.
According to the Darien Times, the man and his father were operating their kayaks in rough water near Long Neck Point on Long Island Sound when they became separated. The father lost sight of his son and after fruitlessly searching for him, went ashore and called police.
The Darien police boat—manned by Officers James Martin and Lou Gannon—responded, located the son, found him to be unharmed, and hauled him aboard.