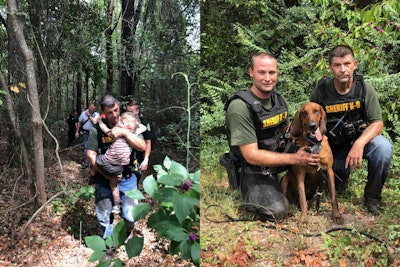 Deputies with the Santa Rosa County (FL) Sheriff's Office employed the assistance of the agency's bloodhound K-9s to locate a 3-year-old autistic boy who had wandered into thick woods in the Florida Panhandle on Monday.
Santa Rosa County County Commissioner Sam Parker posted images of the rescue on Facebook with the caption, "Great job Santa Rosa County Sheriff's Office!"
The post concluded, "Thank you to everyone else that came out to help with this effort."