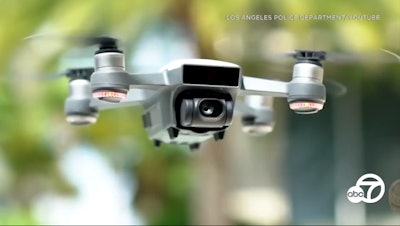 The Los Angeles Police Commission on Tuesday voted 5-0 to allow officers with the LAPD to start using their small fleet of unmanned aerial vehicles.
According to KABC-TV, the civilian police commission approved new regulations on the use of drones in incidents such as active shooters, standoffs, barricaded suspects, hostage situations, and serving search warrants. The agency had been in a year-long test period that ended in July.
Deputy Chief Horance Frank—who commands LAPD's SWAT and counter-terrorism units—said, "The program is exactly what we thought it would be. This cuts down the amount of time we have to shut down a neighborhood—that's a huge benefit to a community."