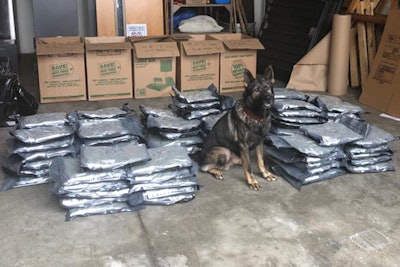 A K-9 with the Ocala (FL) Police Department alerted to the possible presence of drugs during a traffic stop on Wednesday, and eventually sniffed out 94 pounds of marijuana.
The agency posted an image of K-9 Rambo with the seized haul on Facebook congratulating the dog, their own officers, and deputies with the Marion County Sheriff's Office who participated in the arrest and seizure.
"Two subjects driving a U-Haul truck were placed under arrest for Trafficking in Marijuana," the post read. "Great work by both agencies!"