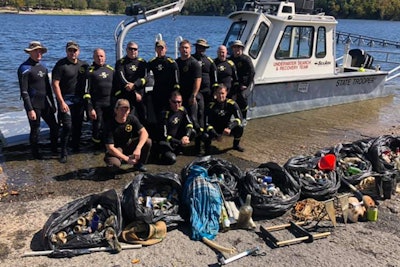 The Oklahoma Highway Patrol dive team recently conducted a two-day training beneath in Tenkiller Ferry Lake, a reservoir in eastern Oklahoma.
As their final training scenario, the team conducted an evidence collection exercise and hauled up all manner of trash from the location that is popular among partygoers on the waterway.
The agency said on Facebook, "Divers brought up around 200 lbs of trash, mostly beer cans and bottles, along with several pairs of sunglasses and even a Go-Pro camera! The boat anchor even got in on the action - when we pulled it up, it had a can wedged on it. The Dive Team would like to encourage boaters to take your trash with you!"