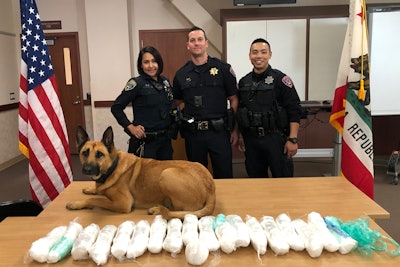 A K-9 with the San Mateo (CA) Police Department is being credited for the seizure of 23 pounds of methamphetamine at a traffic stop.
The agency said in a statement that officers contacted a driver near a local park on a welfare check. The driver was subsequently arrested for a warrant and officers brought in K-9 Ajax to search the vehicle, leading officers to discover a large quantity of methamphetamine valued at more than $160,000.
SMPD PIO told POLICE Magazine that K-9 Ajax is seven years old and still loving every day of the job.
The driver of the vehicle—identified as 26-year-old Vladimir Magallan-Gallegos—was arrested and booked at San Mateo County Main Jail.