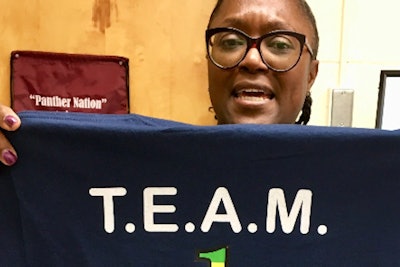 After a school resource officer with the Nashville Metro Police Department learned a girl with special needs at her school was being held out of a camp sponsored in part by the local FOP, she decided to spend her own money and time to create a camp for girls like her.
According to the Tennesseean, Officer Angela Booker noticed that a young girl who had previously been very affectionate became suddenly cold toward her.
Booker began to look into why the girl had such an abrupt change in her feelings about the officer who the young woman had once called "auntie."
Booker eventually found out the girl's mom had determined that the FOP camp Officer Booker was involved in running was OK for her sister, but not adequately suited to the girl with special needs.
So Booker started T.E.A.M. 1 summer camp, a weeklong day camp for girls with special needs.
The camp recently completed its second year, with girls getting the opportunity to learn math and science, and go on a number of field trips to area amusements.