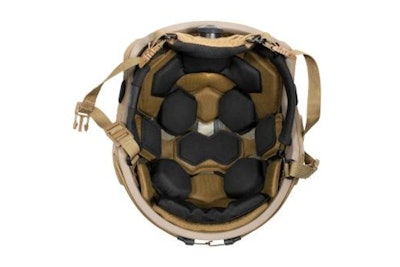 Cleveland-based Team Wendy, a leading provider of head protection systems, has announced the immediate availability of the CloudLine System, a new drop-in helmet liner designed for exceptional comfort while upholding high safety standards.
The liner, named CloudLine for its distinctive comfort grade, features the softest Team Wendy patented Zorbium foam to-date, used in strategically placed hexagon-shaped comfort pads designed to prevent hot spots while maintaining protection. The company says the "exceptionally comfortable liner" is optimized for the widest range of ground combat helmets on the market. Previous Team Wendy drop-in liners were developed around specs of the standard ACH/ECH helmets, while CloudLine is designed to fit a broader range of helmets, including those used throughout special operations communities.
"This liner is designed to feel as comfortable and effortless as a baseball cap," said Team Wendy CEO Jose Rizo-Patron. "The CloudLine System furthers Team Wendy's position as the market leader in drop-in helmet systems, combining the best in comfort and protection with the ability to customize fit."
The system includes:
• Three impact liner pads (front, crown, rear)
• Four thick hexagon-shaped Cloud pads
• Seven soft comfort pads in various shapes and sizes
• Ten Velcro brand hook disks
CloudLine retails for $109.99 and is available for purchase on TeamWendy.com and through authorized Team Wendy dealers.
CloudLine exceeds ACH blunt impact requirements (AR/PD 10-02) and is compatible with nearly all standard ground combat helmets, though some models may also require a CAM FIT Retention System retrofit in order for the CloudLine System to fit properly.
Attendees of the upcoming SHOT Show convention in Las Vegas will be among the first to experience the new liner, where media and patrons are invited to try out the CloudLine system.
For more information, visit www.TeamWendy.com.