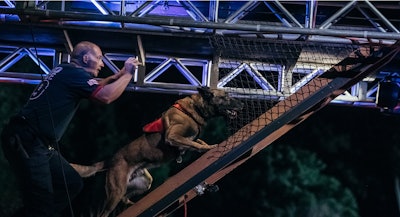 A new competition show on the A&E television network features several police K-9s and their handlers showing off their combined skills in agility demonstrations and other activities.
According to Reality Blurred—a website that reports on so-called reality TV shows—the idea for "America's Top Dog" was spawned by the popularity of K-9 units on the network's popular "Live PD" show that airs on weekends.
In addition to professional police K-9s, there is one highly trained civilian dog—what the show calls the "underdog team."
Each week, the winning team gets $10,000, with an additional $5,000 to donate to an animal charity of choice. In the last week of the show, winners from past episodes will compete for an additional $25,000 prize.
The show filmed last year, and each episode took one day to be produced. Hosted by NFL commentator Curt Menefee, the show airs on Wednesdays at 8PM. It debuted Jan. 8.