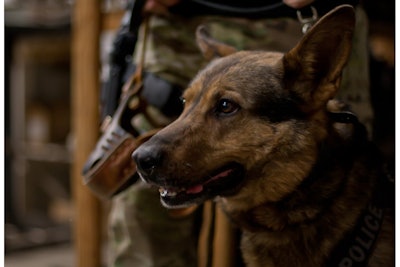 An officer and K-9 handler with the Spokane Police Department posted images and a heartfelt memorial to that agency's K-9 Unit Facebook page.
The officer—identified only as "Craig"—wrote, "I write this with a heavy heart, but I thought some might like to know. Yesterday, my best partner, K-9 Leonidas (Leo), died at home. It appeared as though he might have had a heart attack as he was making his rounds."
The post continued, "If you speak to handlers that have had more than one dog, most will agree that you only have one that is "the dog" for you, Leo was mine."
The author then sang the praises of his former partner.
"It's my time to brag on Leo some, because he deserves it. He was so well loved, we would get requested specifically at times to join the Washington State Marijuana Eradication Team just because he knew the game so well, was stealthy and one of the guys when driving all around the state. Once he fell asleep on the back seat of the WSP supervisor's truck, rolled off the seat and never woke up as he slept on his back, feet up and wedged between the front and back seat. Other times he would just enjoy the ride as one of the guys with his head between the driver and passenger, looking out the windshield."
The post concluded, "I could go on and on and on about all the good times that we had together. I will say that we were lucky enough to enjoy our peak years in K-9 together. Our paths seemed to mirror each other to a point. He died just a couple weeks after my last day in the Spokane Police K9 Unit. My time in K-9 has been the best years of my career to date and I can't imagine anything topping all that I was privileged enough to experience."