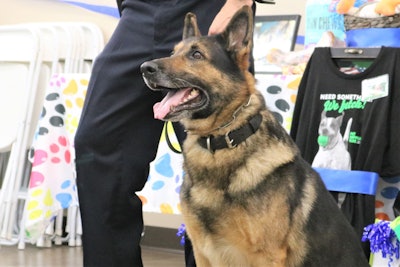 The Goose Creek (SC) Police Department recently honored one of its long-serving K-9s with a retirement ceremony that included serving up a tray of treats for the dog that served the community for nearly seven years.
The agency posted on Facebook, "Whenever someone retires it is bitter sweet. This retirement is not only emotional for the department but also for Officer Erickson and his family. Today the Goose Creek Police Department officially retired K-9 Officer Kron."
K-9 Kron has assisted with countless drug arrests, article searches, and successful searches for suspects.
The social media post concluded, "His service to the department and the city has been invaluable. The Chief officially changed his assignment from field services to the Erickson family protector. Thank you Kron for your 6.5 years of service. Enjoy your retirement."