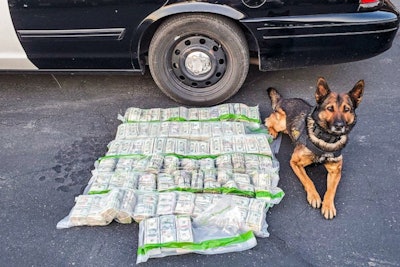 Suspects in California stopped in the middle of a police chase to drop two cardboard boxes full of cash totaling almost $1 million dollars on the side of a road before they were apprehended by a K-9 handler and K-9.
The incident took place May 1 when an officer observed three sport utility vehicles that appeared to be traveling together northbound on Interstate 5 in Merced County and saw them commit traffic violations before attempting to stop one of them, police say.
"At one point during the pursuit, the driver of the Chevrolet Suburban stopped on the right shoulder, exited the vehicle and dropped two cardboard boxes off before returning to the vehicle and continuing to flee," said the California Highway Patrol of Merced County in a statement on social media. "Shortly after dropping the boxes on the shoulder, the driver of the Chevrolet Suburban stopped his vehicle and surrendered."
"During the incident, Merced Communications Center received several 911 calls regarding the cardboard boxes that were dropped off on the shoulder," said the CHP. "Officers retrieved the cardboard boxes and located U.S. currency estimated to be $915,000," ABC reports.
It was later discovered the suspects were traveling to northern California to purchase marijuana.