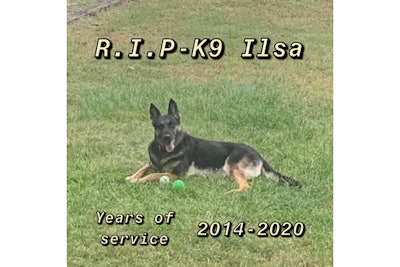 Officers with the Horry County (SC) Police Department are mourning the loss of a beloved K-9 after the dog passed away earlier this week.
On Thursday, the agency posted on Facebook several pictures of K-9 Ilsa, saying, "It is with sad hearts that we announce the passing of HCPD K-9 Ilsa. Earlier this week, Ilsa experienced a medical emergency, and, despite medical care, the decision had to be made to allow her to cross the 'rainbow bridge'."
K-9 Ilsa served from 2014 to 2020, working units ranging from Street Crimes and Narcotics & Vice to the Community Outreach Team.
The social media post concluded, "Please keep K-9 Ilsa's handler, L/Cpl. Whitmire, and the rest of our HCPD family in your thoughts as we navigate this tough time. Losing a partner is never easy. Losing a friend and companion is all the worse."