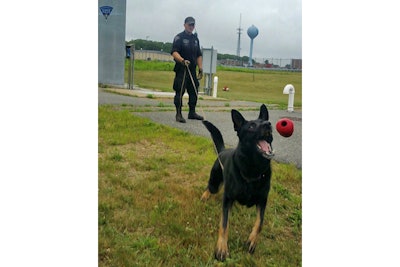 A trooper with the Massachusetts State Police and K-9 Caber were able to successfully locate and return to safety two teens—aged 13 and 14 years old—who had gone missing early Saturday morning.
The agency posted on Facebook that after Trooper Matt Baird learned that Palmer (MA) Police were searching for two girls who had been missing for several hours, he responded to the area with K-9 Caber, and after obtaining an object with the girls' scent on it, deployed the dog behind the family's home.
The post read, "The search area had been heavily crossed over by family members searching for the girls, which would make the track more difficult for a dog."
However, K-9 Caber and Trooper Baird worked a north-to-south search pattern and Caber eventually picked up the scent and eventually led Trooper Baird to a small cliff where he found the two girls just ahead, crouched beside a tree.
The searchers walked the girls out of the woods and returned them to their home.