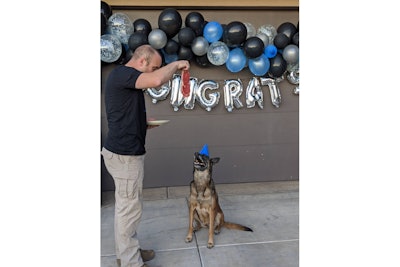 A K-9 with the Hurricane City (UT) Police Department has bid farewell to two-legged colleagues at the department during a sendoff celebration at which she was given a large steak instead of cake.
According to the St. George News, K-9 Paige—a Belgian Malinois—was the agency's first dog and was three years old when she became a member of the department in 2014 and was partnered with handler Jayson Despain.
Paige was trained for narcotic detection and criminal apprehension, though the department did use her a few times on armed robberies.
Hurricane City Police Chief Lynn Excell said, "Officer Despain—being our first handler—he made the program work here in Hurricane. He was able to go through the trainings and do the right things. He was very effective."