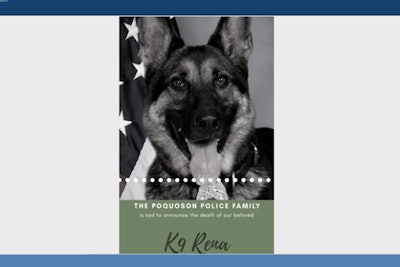 Officers with the Poquoson (VA) Police Department are now mourning the passing of K-9 Rena, who died on Sunday afternoon. The department said Rena's cause of death was "unexpected, but due to natural circumstances."
According to the agency's Facebook page, K-9 Rena had seven years of with the department.
The agency said in its social media post, "It is with heavy hearts and great sadness that we announce the passing of K-9 Rena. K-9 Rena was an amazing partner and friend of the members of the Poquoson Police Department for the past seven years."
Rena was 10 years old when she passed.