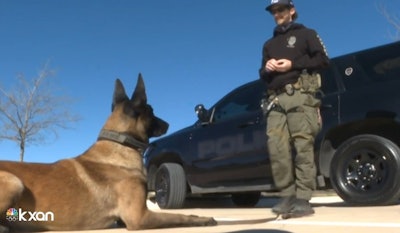 When a carjacking suspect running from authorities reportedly jumped into a vehicle with two girls inside, San Marcos, TX, Officer Stephen Sarver and his K-9 Rex and other officers responded.
Sarver said he and suspect Christian Lee Guzman had an intense struggle, as Guzman tried to steal a car outside of San Marcos Premium Outlets. At the time, Sarver had no idea there were two girls, a 10 and 15-year-old, inside the car. Then they started screaming.
"I just wanted to protect the kids at all costs… I used my door popper on my door to get my dog to come to me," Sarver told KXAN. "Rex and I jumped in on the passenger side and other officers were able to drag him [Guzman] out of the car."
Rex then turned to comfort the girls.
"He's good at every aspect that his trained to do," Sarver said.