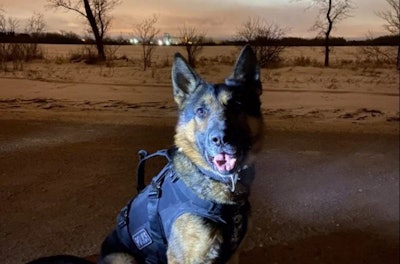 The Saskatoon Police Service (SPS) says one of its dogs was wounded in the line of duty and rushed to a veterinarian on Wednesday morning.
The incident began with a traffic stop, which the suspect fled, leading to a vehicle pursuit, police say.
The vehicle ended up stuck in snow and one of the occupants, a male suspect, who attempted to run was found in deep snow, Global News reports. Officers were attempting to bring him into custody when their dog, Oliver, was stabbed repeatedly with a knife, police say.
"Thankfully, the kevlar vest that he was wearing at the time prevented further serious injury or death," SPS said on Facebook.
Oliver underwent surgery at the Western College of Veterinary Medicine for injuries described as serious but non-life-threatening, according to the release.