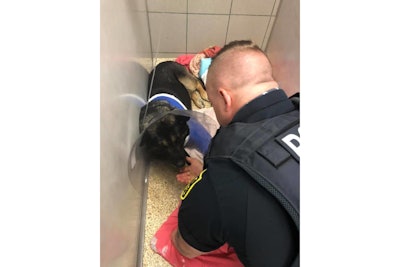 An Austell, GA, police K-9, Jerry Lee, will begin a "very spoiled retirement" after he was shot and seriously wounded while chasing a suspect Sunday in Douglas County, officials said. Jerry Lee was hit once in his front leg.
"We are just trying to make sure he is resting and comfortable for the next little bit," Austell police Deputy Chief Natalie Poulk told The Atlanta Journal-Constitution. "But we have plans to do something very special to honor our hero!"
Jerry Lee was rushed to the Blue Pearl Animal Hospital in Sandy Springs shortly after the shooting, the GBI previously said. He was released from the hospital Tuesday afternoon, wearing a blue cast from paw to shoulder as he pranced to meet his handler.
"Ofc. Reeves is so glad to have his partner going home! Jerry Lee has a long, hard road to go but so happy to see his person," the Austell Police Department said in a Facebook post.
The suspect, 24-year-old Dequan Cortez Glenn, died of a self-inflicted gunshot wound during the incident, which began just before 2 a.m. in the area of I-20 and Douglas Boulevard, the GBI said.
Doctors performed surgery on Jerry Lee and were able to avoid amputating his leg. Austell police said it was a "tricky procedure," and they are praying for a full recovery.