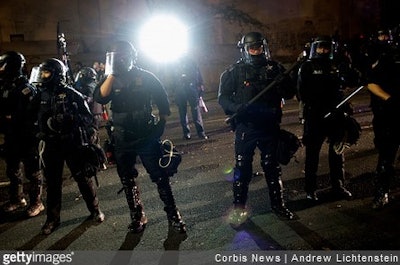 Officers who serve on the Portland Police Bureau's specialized crowd control unit, known as the Rapid Response Team, voted to resign from the team during a meeting Wednesday night then alerted the chief's office, a police lieutenant and the mayor's office have confirmed.
The unprecedented move by officers and sergeants to disband their own team came a day after a team member, Officer Cody Budworth, was indicted, accused of fourth-degree assault stemming from a baton strike against a protester last summer. A year ago, about 70 members comprised the team, OregonLive reports.
A team lieutenant called Chief Chuck Lovell to inform him the members of the team, who serve voluntarily in the assignments, voted to resign due to perceived lack of support from City Hall and from the district attorney over the past year, which included more than 100 consecutive nights of protest coverage, according to the mayor's office and officers.
A 9 a.m. meeting has been set Thursday between police brass, the mayor's office and a police union representative.
In late October, the president of the police union, the Portland Police Association, sent the mayor and police chief a letter, urging both to "stand up and publicly support Police Bureau members who voluntarily serve on the Rapid Response Team (RRT)."
"Our RRT members do not volunteer to have Molotov cocktails, fireworks, explosives, rocks, bottles, urine, feces and other dangerous objects thrown at them," wrote Daryl Turner, then president of the union. He noted that the team members volunteer for the work without any specialty pay.
"Nor do they volunteer to have threats of rape, murder and assaults on their families hurled at them. They do not volunteer to suffer serious injuries, to be subjected to warrantless criticism and face allegations by elected officials, or to suffer through baseless complaints and lengthy investigations devoid of due process."