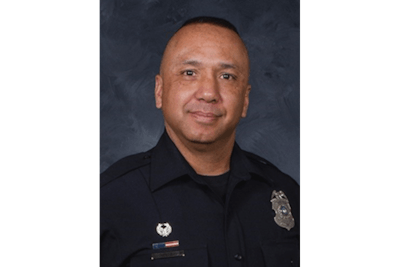 The National Association of School Resource Officers (NASRO) has presented its Floyd Ledbetter National School Resource Officer of the Year Award to Miguel "Mick" Rael of the Albuquerque Police Department. The annual award recognizes school resource officers (SROs) who have made specific and significant contributions to their local communities or school districts. SROs are specifically trained law enforcement officers assigned to work in schools.
NASRO presented the award at its annual National School Safety Conference.
"Each of the experienced educators who nominated Officer Rael commented that they have never seen an SRO who is as available and committed to students, staff and the community as he is," said NASRO executive director Mo Canady. "They described many ways Officer Rael demonstrates his passion for the health and wellness of everyone in and near his school. We're proud to have someone like officer Rael in the SRO profession."
NASRO also presented its National Award of Valor to Officer Anthony Pate of the Southlake (TX) Police Department. In January 2021, Officer Pate intercepted an armed, mentally disturbed man in front of a middle school. While coordinating the tactical responses of other officers and instigating safety procedures at the school, Officer Pate persuaded the suspect to lay down his weapon and enabled apprehension via non-lethal means.
"Officer Pate's bravery, communication skills and tactical skills substantially reduced the threat the suspect posed to the school's students as they arrived for the day," Canady said. "He responded exactly how all SROs should in such situations."
In addition to those listed above, NASRO presented the following awards at today's ceremony:
Presidential Citation: Master Deputy Demonte Harvey of the Carroll County (MD) Sheriff's Office received a special recognition from NASRO's president for saving a student's life by administering cardiopulmonary resuscitation and applying an automatic external defibrillator.
The Chief Nicholas C. Derzis Safe Schools Leadership Award for contributions and dedication to an SRO program went to Dr. Steve Webb, superintendent of the Goreville Community Unit School District 1, Goreville, Illinois.
Regional Exceptional Service Awards for continuous and sustained service to the school community above and beyond that normally expected of an SRO went to:
Deputy Warren "Keith" McCullough, Okaloosa County (FL) Sheriff's Department.
Officer Jason Neidig, Aberdeen (MD) Police Department.
Officer Robert Reyngoudt, Cortland City (NY) Police Department.
Officer Shane Harris, New Bedford (MA) Police Department.
Officer Terance Smith, Avon Schools (IN) Police Department.
Officer Tim Nugent, Guntersville (AL) Police Department.
Officer Diron Hill, Southlake (TX) Police Department.
Officer Jason Scott, Cass County (ND) Sheriff's Office.
Officer Lindsey Frank, Fortuna (CA) Police Department, Fortuna, California.
Officer Shefali Phillips-Arain, Douglas County (CO) Sheriff's Office.
The National Road Safety Foundation Innovation in the Classroom Award for demonstrating the use of innovative methods in teaching traffic safety to teens went to Officer Glen Johnsen of the Fontana (CA) Unified School District Police Department.
The Model SRO Agency Award for exemplifying in training, policies and standards, the NASRO triad concept — which describes an SRO's role as mentor, guest lecturer and law enforcement officer — and for demonstrating creative and innovative approaches to school-based policing, went to:
Albuquerque Police Department's School Resource Unit, Albuquerque.
The Val Verde District (CA) Police Department.
The NASRO Instructor of the Year award, which goes to instructors who demonstrate excellence in teaching NASRO courses while continuously performing above and beyond the call of duty, went to Carl Osburn of Allen, TX.