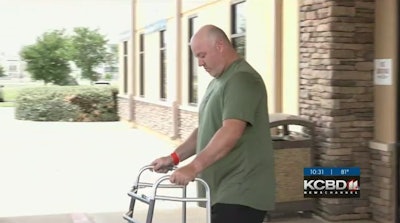 Levelland, TX, Police Sgt. Shawn Wilson was released from a rehab facility on Thursday, 14 days after he was shot in the head during a standoff with a suspect who allegedly killed a Lubbock County SWAT commander.
Omar Soto-Chavira, 22, allegedly fired multiple times at officers during the July 15 standoff, killing Lubbock County sheriff's Sgt. Josh Bartlett and wounding Sgt. Wilson, KCBD reports.
There were cheers, tears and hugs as Wilson walked out of the facility with a walker. He seemed surprised and humbled by the support of his colleagues. Levelland Police Chief Albert Garcia was first in line to hug Wilson.
"I mean, what a great day today to have Sgt. Wilson coming out of the hospital today. He's getting to go home. He's improving daily. Everyone got to see him actually taking some of his first steps," Garcia said.