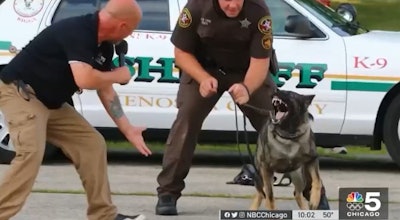 A Kenosha County (WI) Sheriff's K-9 was shot in the forehead during the arrest of a Chicago murder suspect Thursday morning.
Law enforcement in southeastern Wisconsin said they were chasing a man who was driving a vehicle belonging to a Chicago murder victim.
Officials say the stolen vehicle was at a Bristol, WI, gas station, and deputies attempted to conduct a "high-risk traffic stop."
The suspect fled from the vehicle on foot, and Riggs was deployed, NBC5 reports.
"Riggs was released and captured the suspect just before running onto Highway 50 while the suspect still had the gun in his hand," said Kenosha County Sheriff David Beth. "And Riggs took the suspect to the ground."
During the struggle, Riggs was shot and responding officers then fired at the suspect multiple times.
K-9 Riggs is hospitalized and expected to recover but not to return to duty, according to NBC5
The suspect was shot in the abdomen and the leg and taken to an area hospital for treatment of his injuries.