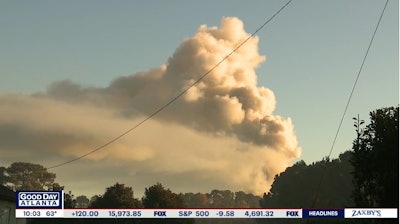 The suspect in a standoff in LaGrange, GA, has been found dead after an explosion and fire in his residence.
Police say the suspect—identified by authorities as Brian Jessee—fired in excess of 300 rounds at responders. At one point the fire coming from the man reportedly disabled an armored vehicle, LaGrange Police said.
Officials told WTVM this incident started Monday around noon when police went to conduct a welfare check on two 8-year-old children in the home following Jessee's "suicidal rant" on Facebook. The children were taken into protective custody at that time.
Around 3 p.m. Tuesday, police came back to the home to execute an arrest warrant for Jessee. At that time, police evacuated the neighborhood when Jesse began to fire off rounds from a semi-automatic rifle, authorities say.
Police quickly surrounded the area and set up a command post. Additional resources from the sheriff's offices in Troup, Coweta, and Fulton counties as well as police officers from Newnan and Peachtree City were brought in to assist. The Georgia Bureau of Investigation's Explosives Division was also called in to be on standby, Fox 5 reports.
Around 7:30 a.m. Wednesday morning, a fire started from the garage of the home. Reporters on the scene saw heavy smoke in the sky and heard multiple rounds of gunfire. Police say Jessee had an arsenal stored in the garage, including Tannerite explosives.
Multiple fire trucks responded to the scene. The home was fully involved, police say.
The Troup County Coroner's Office says remains, believed to be those of Jessee, were recovered around 12:15 p.m. Wednesday. The remains were transported to the GBI Medical Examiner's Office for examination and positive identification. The coroner says the cause and manner of death are undetermined at this time.
The incident is being investigated by the Georgia Bureau of Investigation.