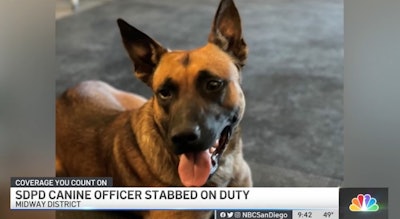 San Diego Police canine officer Hondo is recovering after being stabbed on duty. The 2-year police dog helped arrest a man who was armed with a knife on Friday morning. The suspect, 35-year-old Dedrick Jones, has been arrested for attacking a canine officer in the past.
The most recent attack happened on the morning of Dec. 17. A woman called police to report a man had threatened her with a knife in San Diego's Midway District.
Police confronted the suspect. According to SDPD, the man swung a knife at officers. In order to avoid lethal use of force, Hondo was deployed. The canine officer was able to take down the suspect but was stabbed in the process.
Jones was arrested in 2020 after stabbing another police dog named Titan, NBC San Diego Reports.
Titan had to get 100 stitches and have his colon removed following last year's stabbing.
Jones was sentenced to a year in jail for the attack but was released in June based on jail credits for time served. Jones was on probation when he was arrested Friday.