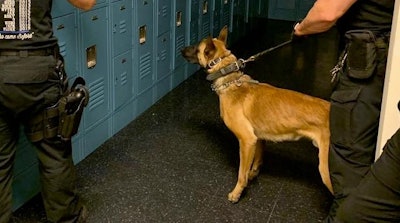 Fresno, CA, police say a department K-9 was shot and killed by a Fresno officer during a violent attack Tuesday morning. K-9 Odin was being taken to be euthanized when he was shot.
Odin had attacked and seriously injured a Fresno officer last October, KGPE reports.
After considering the safety of the public and officers, officials say the decision was made to remove K-9 Odin from service.
Following a final assessment, it was determined that Odin was becoming more and more aggressive, the department made the difficult decision to euthanize him.
On Tuesday morning, Odin was scheduled for the procedure and members of the K-9 unit gathered to take him to the veterinarian's office.
Officials say Odin continued to be extremely aggressive despite being given prescribed sedatives. Odin ended up biting a K-9 officer who was forced to shoot the dog.
K-9 Odin was 4 years old and had served with the Fresno PD for three years.