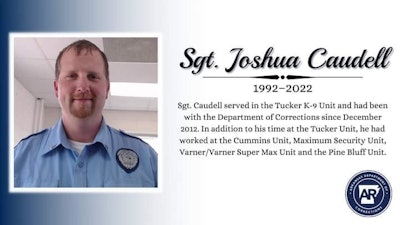 Pulaski County deputies say the person of interest in the death of Arkansas Department of Corrections sergeant Joshua Caudell was taken into custody Tuesday morning and is likely to face a charge of capital murder.
According to the Pulaski County Sheriff's Office, 37-year-old Demark Lee Jordan was taken into custody around 6 a.m at a gas station in the Morgan community in northern Pulaski County, KARK reports.
Sgt. Caudell was killed on Monday while searching for Jordan, who allegedly fired shots at deputies during a welfare check on Jordan's wife.
Pulaski County deputies requested assistance from the Department of Corrections K-9 unit.
Lt. Cody Burk of the Pulaski County sheriff's office said the K-9 units were going through the woods with the dogs when they were alerted to a nearby trailer, Arkansas Online reports.
At about 4 a.m. Caudell, another K-9 handler and a sheriff's deputy were trying to look under the trailer when shots were fired allegedly by Jordan. The arrest report states Caudell was shot in the chest.
Caudell, a husband and father of three, had been with the Tucker K-9 unit and the Department of Corrections since December 2012.