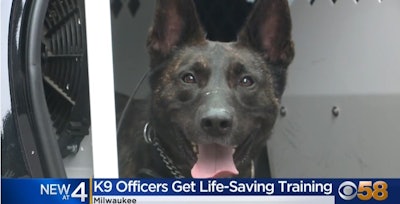 Milwaukee police handlers are freshening up their first aid and CPR with a training that could potentially save their four-legged partners' lives.
"We send a K-9 in first to search the area and make sure the area is safe for the officer to go in," K-9 Handler Shawn Burger told CBS Milwaukee. "The potential risk of injury for the dog is pretty severe."
"A dog can only go about 10 minutes without oxygen," said Burger.
He demonstrated CPR on a stuffed canine because practicing on dogs can be dangerous, no matter how close the handler and the dog are. "You've got to muzzle them. It doesn't matter who you are."
All 14 handlers on the Milwaukee police force are now equipped with the education to save any dogs life -- whether it's helping a choking dog or administering Narcan to a dog who's accidentally sniffed drugs.