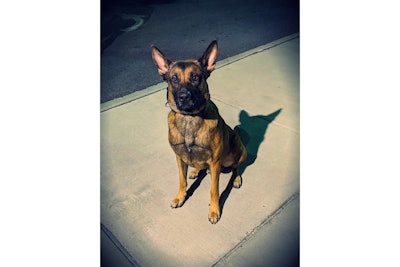 A Moss Point, MS, police K-9 is in serious condition after being shot while trying to apprehend a suspect early Tuesday morning.
According to the Moss Point Police Department, officers responded to a burglar alarm at a Shell station on Highway 63. Officers identified a suspect and began searching the area for him.
K-9 Buddy was released to apprehend the suspect. The suspect fled over a privacy fence and Buddy went over the fence after him, continuing to pursue the man into a wooded area, police said on Facebook.
Shortly after Buddy and the suspect entered the wooded area, officers heard gunshots. Buddy then came out of the woods and collapsed on the ground in front of his handler. Buddy was quickly rushed to an emergency veterinary clinic in Mobile, AL, where he underwent emergency surgery for a gunshot wound to his chest, police said.
As of late Tuesday morning, Buddy was in stable condition but still on oxygen support, WDAM reports.
Suspects have been detained. Police say felony charges will be forthcoming, including a charge for the attack on K-9 Buddy.