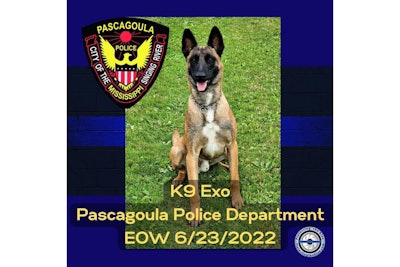 A Pascagoula, MS, police K-9 was shot and killed Thursday while tracking a suspect. The suspect was seriously wounded by police fire.
The Pascagoula Police Department reports on Facebook that K-9 Exo and his handler, Officer Prisock, were tracking a suspect when the suspect "fired shots at our officers and hit K-9 Exo. He was rushed to an emergency vet where sadly he succumbed to his injuries."
The Sun Times reports the suspect Mitchell Wayne Robinson is charged with possession of a firearm by a convicted felon and aggravated assault. He is currently in intensive care at Singing River Hospital.
Robinson allegedly shot a man at about 3:30 p.m. in Helena before shooting Exo, the Jackson County Sheriff's Department said in a release.