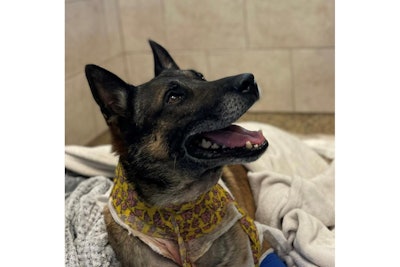 A Jacksonville Sheriff's Office K-9 shot in the line of duty Friday is recovering. Veterinarians said Monday that they are trying to close a wound in his neck.
First Coast Veterinary Specialists shared photos of JSO K-9 Huk, who has been in its care since Friday afternoon when he was wounded in a shootout after a police chase on Jacksonville's Northside. Two suspects were killed, News4JAX reports.
It was a dramatic scene as the police helicopter landed in Jacksonville Beach. First responders flew the dog across the county, rushing Huk to the emergency vet with three gunshot wounds — bullets in his neck, hind and wrist.
K-9 handlers believe training and smart thinking saved the dog's life.