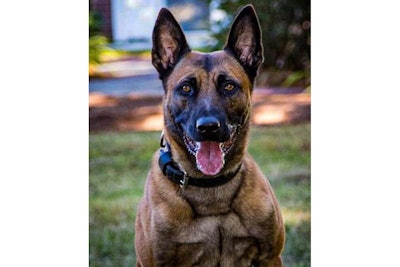 A Massachusetts State Police K-9 was shot and killed Tuesday as members of the police fugitive apprehension team attempted to take a person into custody inside a Fitchburg home Tuesday afternoon.
"It is with tremendous sadness that I announce that a Massachusetts State Police K-9 was killed in the line of duty today," Col. Christopher Mason said. "K-9 Frankie was fatally shot today during an attempt to apprehend a wanted fugitive who had barricaded himself inside a residence." Frankie was a 10-year-old Belgian Malinois.
Mason said they had received information that a fugitive suspect, identified by police as Matthew Mack, 38, was inside a multi-family home in Fitchburg, WCVB reports.
Police said Mack was wanted on warrants, charging him with firearms offenses and accessory after the fact stemming from a shooting incident on July 21 in Fitchburg. Police say when they attempted to apprehend Mack, he opened fire and Frankie was hit.
A standoff ensued after K-9 Frankie was shot. Suspect Mack appears to have killed himself during the standoff. Police did not fire their weapons during the incident.
"In 2017, K-9 Frankie and his handler were awarded the Medal of Valor during the George L. Hanna Awards for Bravery ceremony for the apprehension of a gunman. In this incident, the suspect opened fire on K-9 Frankie and his handler (Sgt. David Stucenski), and without hesitation, K-9 Frankie charged the gunman, disarming him and saving his handler's life," State Police said on Facebook.