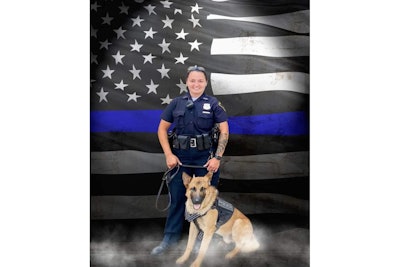 A Richmond, IN, police officer is fighting for her life after being critically wounded Wednesday evening during a traffic stop shooting, Richmond Police Chief Mike Britt said.
Officer Seara Burton, 28, a four-year member of the Richmond PD who recently became a K9 officer, was taken to Reid Health, then flown by medical helicopter to Miami Valley Hospital in Dayton, Ohio, according to Indiana State Police.
The suspect, Phillip M. Lee, 47, was also critically wounded, the Richmond Palladium-Item reports.
Burton was called about 6:30 p.m. to assist with a traffic stop and located Lee, a parolee, riding a moped, according to the Indiana State Police, who took over the investigation. Lee was stopped and Burton's K-9 partner, Brev, indicated to the presence of a narcotics odor.
While officers spoke with Lee, he pulled out a firearm and fired multiple shots at officers, wounding Burton. Other officers fired back at Lee, State Police say.