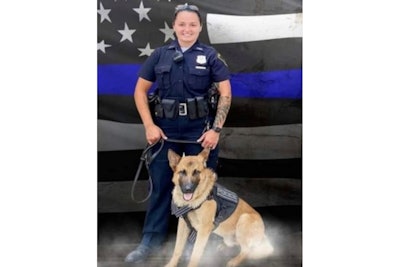 An Indiana K-9 handler who was shot and critically wounded during a traffic stop last week is reportedly fighting for life in an Ohio hospital.
Richmond, IN, Police Officer Seara Burton's condition remains critical, a letter penned Wednesday by the Richmond Police Department's top brass said.
As her K-9 partner was checking the suspect's moped for drugs, the suspect reportedly fired at Burton and a fellow officer, striking Burton, police said. The suspect was also wounded. His condition has not been updated.
The letter, signed by Richmond's chief of police and two deputy chiefs of police, said Burton's K9 partner Brev is being cared for by one of the department's investigators who is a former K9 handler, WTHR reports.