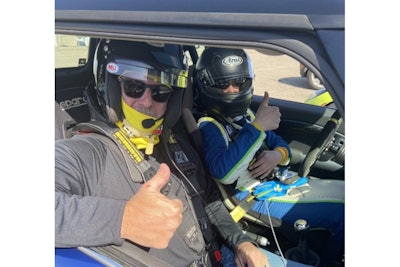 Good-spirited rivalry among sheriffs in New York will take to the racetrack soon. Twenty-seven sheriffs from across the state will test their skills at Watkins Glen International not just for bragging rights, but more importantly to raise funds for summer camp.
Sheriffs' Showdown 2, set for Oct. 13, is a fundraiser to help send children ages 9 through 12 to the Sheriffs' Summer Camp, operated by the New York Sheriffs' Institute.
But there would not be a Sheriff's Showdown 2 without the original Sheriffs' Showdown of 2019. That one was a little more slow paced.
Horsing Around
The original Sheriffs' Showdown spun off from a mounted competition between the Livingston County and Monroe County sheriff's departments. As the two sheriffs visited and talked, they hatched the idea of 'We should do that' as they watched their officers compete. With that thought, Monroe County Sheriff Todd Baxter and Livingston County Sheriff Tom Dougherty had the idea for the first Sheriffs' Showdown. The fundraising event pitted 12 sheriffs against each other on horseback and like this year's showdown raised money to send kids to camp.
"We all trained for several months and did the mounted competition. It's an obstacle course that you take a horse through basically," says Baxter.
Dougherty, who hosted the event, claimed that first trophy.
"Sheriff Dougherty's claim to fame is he never rode a horse before in his life. And, of course, I call the BS flag on that one. I'm like, that can't possibly be true. He glided right through competition; he was so good at it," Baxter jokes about his friend and fellow sheriff as he now sets his eyes to trying to take the trophy away from him at Sheriffs' Showdown 2.
The COVID-19 pandemic postponed any chance of holding similar events in 2020 and 2021, but now it is time for sheriffs to get a rematch – this time on pavement.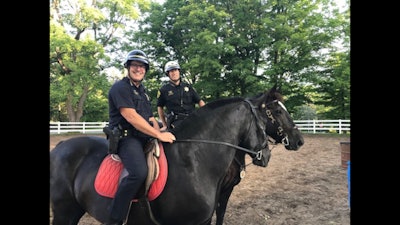 Track Time
Moving forward, the friendly competition now resumes but in a new, faster format. Twenty-seven sheriffs from across the state will race independently and be measured compared to the potential of the cars they select to drive.
"We can't race by the rules of the racetrack. We can't race head-to-head so there's not a start and finish. So, we are racing eight laps and we're looking for the closest to the adjusted track speed for that car you're driving," explains Baxter. "Every car that we're going to be driving will have an adjusted speed. It'll be a little faster than the comfort level, but it's not beyond controllable."
All on-track events for Sheriffs' Showdown 2 are being coordinated by Hooked On Driving, a group that specializes in providing high performance driving experiences and is providing both the cars and the instruction.
Ten performance cars will be available for the sheriffs, or those from the public who pay a fee to drive them, but each sheriff can instead choose to bring a vehicle to race. An instructor will teach an hour-long class and then ride with each sheriff as copilot/coach during the timed laps.
Baxter had a taste of what to expect when he did five laps with one of the instructors as he rode shotgun in an Audi equipped with a roll cage and five-point harnesses.
"If you've never done a road track, you've got hills, you've got turns, you have almost 90-degree turns, so trying to get a perfect consistent score for three laps out of the eight is nearly impossible. So, you're pushing the car to speed and it's going to be challenging but also trying to get lap averages as close to that adjusted speed as possible," Baxter says.
With race time nearing Baxter still does not know if the other sheriffs will use the provided performance cars, such as Audis and Corvettes, or show up with their own. Baxter says he could not enter one of his patrol vehicles because of insurance but says some of the other sheriffs may show up with traffic patrol vehicles to race.
"We didn't anticipate it, but that's been the new thing — the mystery of it, who's bringing what car, be-cause the car is going to make a big difference," he adds.
Meanwhile, the sheriffs are all teasing and joking with each other online and in media as they try to build up excitement for the charitable event. They're keeping it fun and lively but staying focused on the significance of sending children to summer camp.
Other Attractions
Sheriffs' Showdown 2 is slated for Oct. 13, a Thursday. While that may not seem to be the optimal time to draw public to engage with public safety, Thursday is the first day of a three-day event weekend at the track. But, Sheriffs' Showdown 2 will be about more than just racing.
Sheriffs from across the state will be sending special units such as SWAT, SCUBA, bomb squads, K-9 units, and a drone response team to provide demonstrations. There will also be an Emergency Vehicle Operator Course (EVOC).
For spectators and families, admission is free to the all-day event that runs from 9 a.m. to 7 p.m.
However, for those among the crowd that may be thrill seekers some unique opportunities will be on hand. Those optional activities, involving a fee, serve as part of the fundraising and include opportunities like driving the track, riding laps in the track as a passenger with an instructor, and even receiving training and testing one's skills on the EVOC and Distracted Driving course.
In addition to those paid driving experiences, Sheriffs' Showdown 2 also raises funds through a variety of sponsorship packages that include perks such as lunch with the sheriffs, receptions, and driving opportunities.
Summer Camp
The Sheriffs' Summer Camp is located on the shore of Keuka Lake at a site that originally was founded more than 100 years ago by the YMCA as Camp Iroquois.
The camp has been operated by the New York Sheriffs' Institute since 1986 and each sheriff has an allotted number of spots open to send children from his or her community. Baxter says last year the state's sheriffs collectively sent more than 800 kids to camp. The camp season is split into six weeks with a different group of children arriving each Monday and staying until Friday.
"It's taking disadvantaged kids from across New York state, putting them into a beautiful spot in central New York and the Finger Lakes, giving them all the camp experience, but also meeting other kids and police officers from all over New York state," says Baxter, who usually sends at least 10 children from his community but sometimes as many as 15.
Some of the camp counselors are officers, but that's a secret.
"Monday through Thursday they're in plain clothes and the kids just think they're counselors, they just think they work for the camp. Then on Friday, they come out in uniform," explains Baxter. "It's just that powerful moment of 'Wait, that cop is a cool person. I've been hanging out with them all this week and he's a police officer.' It's really a precious moment, especially in our world that we're living in. We're building that relationship with these young people."