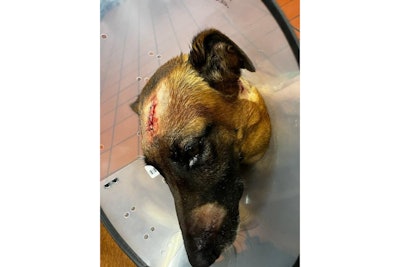 A 7-year-old Belgian Malinois serving with the Manatee County (FL) Sheriff's Office was slashed on the nose and face last week while apprehending a vehicle theft suspect, officials say.
When the driver saw deputies, he intentionally rammed a MCSO patrol vehicle with the stolen car, then drove over a shopping cart corral and drove away, the sheriff's office said in a release.
Sheriff's vehicles and an aviation unit pursued. The suspect, Christopher Darlington, climbed out of the vehicle and broke into an unoccupied house, MCSO reports."Deputies set up a perimeter around the residence and multiple commands were given for Darlington to come out and surrender to deputies. He refused and deputies along with K-9 Loki located him, armed with two large knives in the master bedroom. As the K-9 unit approached, Darlington swung the blades at K-9 Loki, cutting him on his nose and face. Darlington was quickly apprehended and Loki, a 7-year-old Belgian Malinois was taken to an area Veterinary Hospital for treatment," the statement says.
During the arrest, deputies discovered a trafficking quantity of suspected fentanyl on Darlington. They also found him to be in possession of stolen property taken from the residence, the sheriff's office reports.
K-9 Loki received 12 stitches to his nose and head. He is expected to make a full recovery and be back to work in about two weeks, MCSO reports.