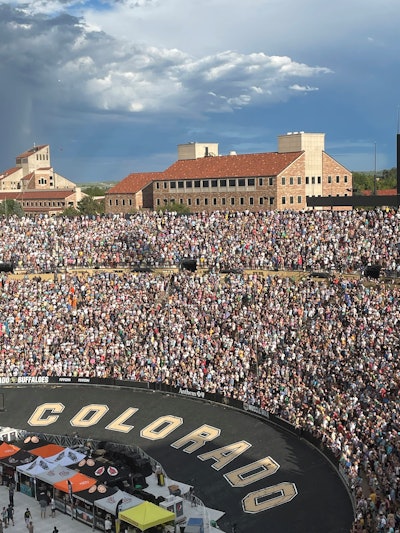 At the University of Colorado Boulder, event security is treated with the utmost care, recognizing the influx of people during gamedays can swell past the 51,000-seating capacity of Folsom Field, the school's football stadium. Through national best practices, advance planning, after-action reviews, and an emphasis on teamwork, Chief Doreen Jokerst spearheads event security with a holistic approach.
"We have about 36,000 students and about 8,000 faculty and staff. So, I like to say we're almost like a small municipality right here in the city of Boulder," says Jokerst, who took the helm of the University of Colorado Boulder Police Department (CUPD) in 2018.
She points out that planning security entails the consideration that more than just the people with tickets to the game are likely to visit the area. Jokerst explains many like to tailgate and like "to be part of the community and a part of the ambiance, but not necessarily go inside the event, or they couldn't get tickets but still want to be a part of it all."
"So, there's always an increase in numbers inside, and then outside as well. We have to be cognizant of all of those factors when looking at events," Jokerst says.
For the current football season, the University of Colorado Boulder has a new football coach — Deion Sanders. Because of his fame, Jokerst says she anticipates interest in the football program will grow, thereby potentially increasing the numbers even more on game day.
Partnerships
Jokerst says she tries to find tactics or procedures that are transferrable. Some tactics may work at a football game, but could that same approach work for a concert? And, building a strong team of university partners such as the athletics department, parking department, and student affairs can help bring new ideas into the mix.
But the partnerships extend past the boundaries of campus. Her department partners with the City of Boulder, the Boulder Police Department, the sheriff's office, and many others.
"We currently have approximately 10 MOUs with surrounding police departments and agencies because it takes a number of people to put on a safe event," she explains. "So, we look at it through multiple lenses when we look at safety. We want to make sure everyone is safe from the time that they arrive in our city and our beautiful university to the time that they exit."
Planning
The chief says tabletop planning is done, but not for every specific event. Again, she watches for any ideas that can be transferable. More importantly, she does not go it alone when it comes to planning. She consults others.
"I talk to leadership about a lot of things that I want to make sure they know from a police operation standpoint, such as 'If X happens, what would you expect to happen?' I'm all about prevention and mitigation. What can we do up front to ensure it's a safe event, instead of always thinking about reactionary," she says.
Jokerst approaches planning by evaluating things like:
Where can officers be posted that will be most advantageous?
Do those posts make sense?
How much contact are those posts getting versus other posts?
Where are higher calls for service? Should staffing be increased there?
Can different people be trained to take on some responsibility that will free officers up to be in other areas?
Staffing
The events are staffed according to the National Center for Spectator Sports Safety and Security (NCS4) best practices guidelines, Jokerst says. The staffing needs are greater than her available staff, but she can count on sworn officers from other departments to work posts at the stadium on game day.
The University of Colorado Boulder Police Department is authorized for 51 sworn positions, and currently 41 are filled. The department tallies about 100 positions including the non-sworn jobs, has a 911 communication center, and the events and emergency staff also report to Jokerst.
"We have people that are involved in the process before, during, and after. There's definitely a lot that goes into it behind the scenes that the person coming to enjoy the event may not necessarily know even takes place," the chief says. "We have a number of professional staff positions that provide assistance, from planning operations before events happen to making sure we get enough staffing for the event, to planning how do we successfully look at things through an after action?"
Outside Assets
On game days, or at similar large events like concerts, a private security team contracted through the athletics department staffs the stadium's entry points, security screens bags, and operates the magnetometers. Only clear bags are allowed in the event venue, but there are a few exceptions, such as in the case of a diaper bag or a medical bag.
Those exempted bags will be screened upon entry and tagged with a certain color so that with a quick glance, officers working at their assigned posts can know the bags have already been approved and screened.
To better incorporate sworn officers from other agencies that may not have a depth of familiarity with the stadium or event venue, they are often paired with university officers during the event. Jokerst says having those outside officers learn about the venue is not just a security point, but also vital to providing high-quality customer service.
"So, someone comes here and says, 'Where do I pick up my tickets?,' or 'Where do I go for this?', or 'Where's the water fountain?,' or 'I need first aid.' If you're new to the event, sometimes you don't know specifically where all those things may be," says Jokerst. "So, we try very hard to team our officers up with people from surrounding jurisdictions so that they feel comfortable and can help answer questions."
Gameday
The event security day kicks off about five hours ahead of, yes, kickoff.
Jokerst points out the national recruitment crisis and how that makes it challenging for her, or any department, to have enough officers for such large events. So, she finds ways to free them up from tasks that previously tied them up on gameday.
One way of doing that, she found, was to work with the parking department to have some of their staff certified as flaggers, thereby eliminating the need to post an officer at some high-traffic locations.
She wants to position her sworn officers, both the department's and the additional officers from other agencies, strategically.
"This year, we really looked at where we have people. What makes sense? Can we free up officers to be in different locations that provide more of a safety stance? And so that's why I say we really took a holistic approach," Jokerst explains.
"We're really trying to put people in places with intentionality that makes sense for the overall safety operations of whatever event that we may be running that day," she explains.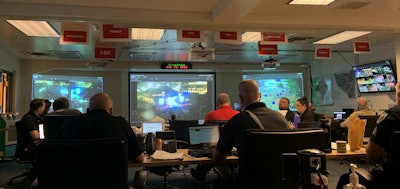 Command/Comms
The department staffs a command post and is joined by a liaison for the private security company and other key security and campus stakeholders. Everything, the chief points out, runs off an incident command structure.
Occasionally, Jokerst leads people on tours of how event security functions. She will have them join one of the traffic briefings, then an operational briefing at the command post. During each event, the chief will walk every post and check in with officers, telling each one "Thanks for taking time out of your day to ensure we have a safe event."
Jokerst said her department is signed up for AT&T FirstNet and all officers are assigned phones. She adds that most other surrounding agencies have switched to FirstNet as well. With that, during big events the officers have priority and preemption, so communications are always guaranteed no matter the situation.
However, radios still work well, and the university police department is on the state radio system, allowing interoperability with other agencies. If an officer from another agency comes to work a game and does not have a radio on the same system, he or she will be issued one for the day. The chief points out that they all also are issued earpieces since both football games and concerts could make communicating difficult otherwise.
Weather Concerns
When an agency is entrusted with the safety and security of such a large crowd, plans must also take into account any severe weather threats that could arise. The football stadium, which also is often used as a concert venue, has no roof, and is not protected from the weather. That means the police have plans in place for more than 55,000 people in case of a severe weather emergency.
Someone from the National Weather Service is on hand in the command post to provide information about developing weather and potential threats that could lead to a shelter-in-place order, like during a recent concert, or even an evacuation of the stadium.
If weather-related issues arrive, all security stakeholders must understand what to do in advance. Because of that, briefings also include pending weather.
Cameras/Drones
Police have access to cameras inside the stadium, outside the stadium, and around campus. The point-to-zoom camera system from the stadium, as well as the broader campus areas, can be viewed from within the command post.
But past that, a drone overhead provides incident commanders with a clear view to help with traffic and crowd management. That knowledge can also help officers on the ground to know if they should direct guests to another entry point that is not as congested.
Parking/Extra Events
Traffic patterns are closely managed, during and after large events, whether football games or concerts. Allowing people to leave a parking lot and turn left crossing traffic means the traffic flow is frequently disrupted. Jokerst has planned to prevent that by controlling the path of exiting traffic so departing vehicles do not stop the flow of crossing traffic.
Jokerst looked at traffic management patterns and acknowledges that when people depart the stadium can vary based on how well, or not, their team is doing in the game.
"If it's a blowout, people start to cascade a little early. And I'm going to tell you, I don't mind that from a traffic management standpoint," Jokerst says. "But if it's a close game people stay till the very end, which means everyone goes to their cars at the very end."
So, part of the traffic management plan has involved the university crafting events to help disperse the traffic pattern. Pre-game events can draw traffic in early for special activities. Likewise, events that keep people on campus following a game or special event can help the traffic disperse over a broader timeframe.
"The university does a phenomenal job of putting on pre-events and post-events, so not everyone's trying to get in their vehicle at the same time," says Jokerst.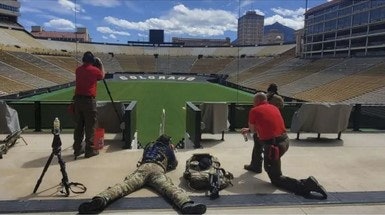 Live-Fire Training
While large events necessitate planning for security in the event of criminal or violent acts, law enforcement agencies must know how to prepare for those worst-case scenarios. In the planning, where sworn officers are posted is strategic so they can keep operational awareness throughout the venue.
But, in addition, at the University of Colorado Boulder football games there are SWAT teams on overwatch. The City of Boulder Police Department, the City of Boulder Fire Department, and the University of Colorado Boulder Police Department each contribute members to a joint SWAT unit.
Some of those officers were part of a special critical response training event inside Folsom Field in 2022. The live fire sniper training, led by TacFlow Academy, gave two dozen SWAT team members from around the region and the country the chance to train in a large venue.
"Approximately 52,000 people go into that stadium. It's all about prevention, training, mitigation, and resources," says Jokerst. "So, I want to make sure that people that are here have the right training in order to do so. I was excited when I was able to work with the university and put that training together and bring a company in to do it."
For the local officers participating, the three-day event increased their familiarity with the venue's layout, security plan, and operations.
"When venue stakeholders allow for this type of training, it increases the SWAT team's probability of success and lowers the risk involved," said Mark Lang, TacFlow's director of sniper training, following the event. "Realistic training for SWAT teams increases proficiency in responding to threats whether inside or outside of the venue."
But, planning for the the live-fire training in the stadium posed challenges for Jokerst and her team.
The chief said there are classrooms in and near the stadium and she did not want to have to displace students, so she worked closely with others at the university to plan around that concern. Also, a communications campaign in advance informed campus community members and nearby residents that they would hear gunshots from a training, and not an actual critical event.
Broader Campus Security
In 2022, the University of Colorado Police Department announced it had worked with the facilities management department to use $3.4 million in state funding, plus received an additional grant for technical assistance. Jokerst explains part of the security improvement project made sure the campus facilities have up-to-date locks and card access readers.
As part of the project, the police department also received funding for technical assistance from the Collaborative Reform Initiative Technical Assistance Center (CRI-TAC) for guidance in security measures and protocols.
Also, in 2021, the school's events and activities policies were updated, including a mandate that event management forms (EMFs) must be submitted 10 business days prior to an event. EMFs are required for events with minors, VIPs, non-affiliates, invited media, events in indoor spaces with capacities of 150 or greater, outdoor events, and as required by the venue.
Event Security Snapshot
In 2022, the university police department:
processed over 1,200 EMF forms
staffed more than 110 events
coordinated 400 building access adjustments to support events
partnered with more than 12 regional police/fire agencies to staff events
activated the command post for 15 events
hosted TacFlow live fire training at Folsom Field
provided magnetometer refresher training for campus partners
made CPTED site assessments and reports on 15 campus facilities
conducted 12 active harmer "Run, Hide, Fight" protocol presentations and onsite safety walkthroughs
held EMPG training exercise for campus leadership
Led policy development/reviews
Advice
Jokerst's background was in community policing, so facing the challenges of managing large events was new for her when she was named chief about five years ago. She admits it has been a learning opportunity.
So, what advice would she now share with other departments that have to plan and manage security for large events, like a college football game?
Research national best practices.
Jokerst has researched how the National Football League plans and implements event security and has met with the Denver Broncos organization. Some members of her security team have met with the Colorado Rockies. She also turns to the NCS4 for guidance.
"We are looking at different ways to learn from our national and collegiate partners," she says.
Also, she recommends having someone come in from outside for an assessment of the stadium. That provides an objective review of such things as where are cameras, where do you park all the fans, and other considerations.
Jokerst, again, stresses a holistic approach.
"Look at your university partners and your city partners and make sure everybody has a voice and a seat at the table to come and bring forth their different viewpoints. Because if you have everyone together, and you take the time to listen and not say 'This is the way it's always been done,' it's going to be a better and safer event for those that visit during the events," the chief explains.
It takes a team, according to Jokerst.
"I surround myself with people that are way smarter than me, that have way more expertise when it comes to event management, and I listen to them and learn from them. So, I'd say surround yourself with people that are going to bring you up," she suggests.