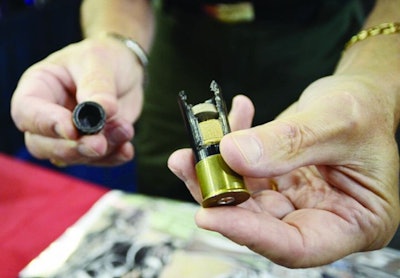 Each year the manufacturers and distributors of tactical police products display their latest and greatest wares at POLICE-TREXPO. The following is a quick look at some of the coolest items exhibited and demonstrated at POLICE-TREXPO 2011.
Firearms and Ammo-Pistols, rifles, and ammunition always take up a large percentage of the show floor at TREXPO. One of the coolest weapons on display this year was the LWRC M6R5-SL. The latest rifle from LWRC is gas piston operated and weighs just 6.1 pounds empty. Available in select fire and semi-auto, the M6R5-SL is being marketed as a lightweight patrol rifle.
On the pistol side FNH USA showed its FNX duty handgun in .40 Smith & Wesson and 9mm. The FNX is an update of the company's FNP design. This polymer-framed duty gun features a manual safety and an excellent three-dot sight system.
Some shotgun ammo is just plain scary when you think about it. And that's most people's reaction to the new Segmented Slug from Winchester. This 12-gauge warhead was designed specifically for police operations and performs as a pretty typical shotgun slug when penetrating glass or wallboard. But when it hits living tissue, it breaks up into three .32 caliber fragments for an effect that's truly devastating.
The Copper-Matrix line of frangible training ammo from RUAG Ammotec USA is an innovative and environmentally friendly product. Featuring the Sintox lead-free primer as well as a lead-free bullet, the Copper Matrix line is some of the greenest ammo on the market.
Ready to Wear-Featuring combat pants, shirts, vests, and jackets, the Extreme TRU line of tactical clothing from TRU-SPEC has pockets and more pockets, and MOLLE, and special sidezips for access. In other words, these tough clothes will help you carry everything you need on a serious operation. Available in black, MultiCam, khaki, olive drab, and navy.
Robots and Stuff-There are always a lot of high-tech goodies at POLICE-TREXPO. This year one of the most innovative tech products was also one of the simplest, so simple that it looks like dirt. The new idirt product from Cyalume Technologies is a non-toxic granular material that looks like dirt but illuminates under night vision equipment. It can be used to tag evidence and suspects.
Tactical robots are always crawling around at TREXPO. This year two of these little tracked machines caught the eyes and nearly bumped the heels of attendees. Simulator Systems International showed its Python platform, a versatile robot that can be outfitted for CBRN, HazMat, bomb tech duties, or surveillance. Robotex demonstrated its Avatar Micro, a 20-pound robot with 200-meter range. The Avatar Micro can be equipped with accessories and payloads for a wide variety of operations.
Related:
POLICE-TREXPO 2011: Iraq War Vet's Memoir