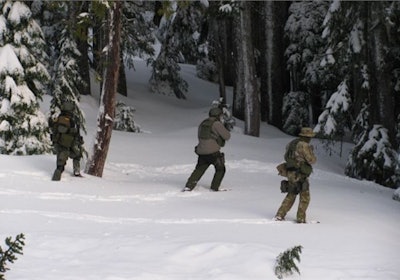 Locating the killer of a Mount Rainer National Park ranger proved no easy task for the Pierce County (Wash.) Sheriff's SWAT team, a tactical squad that navigated a grueling, two-day manhunt in the remote, snow-packed mountains of the Pacific Northwest.
The 18-operator team got the initial call of a ranger down and a gunman on the loose in a park where wintry beauty is defined by glaciers, mountain meadows, and sub-alpine ecology. The call came in at about 10 a.m. on New Year's Day, a Sunday.
The night before, 24-year-old Benjamin Barnes spent his New Year's Eve shooting up a party south of Seattle in Skyway. Barnes had stocked his car with hunting rifles, combat rifles, packs of ammunition, loaded magazines, and soft body armor. The Iraq War veteran had been locked in an acrimonious custody battle with Nicole Santos over their 1-year-old daughter. Barnes sent several disturbing text messages to Santos during the year, including the July note, "I want to die."
Clearly, Barnes had a bad year in 2011, and 2012 would go south fast. After shooting up the party, Barnes drove into the national park and eventually reached Paradise, a tourist-favorite spot that offers access to massive waterfalls and snow-shoeing for adventurous visitors. He then drove to a checkpoint requiring snow chains for all vehicles. Barnes blew the checkpoint and began firing rounds at a ranger who pursued him. The ranger radioed for assistance, which came in the form of Ranger Margaret Anderson, an 11-year veteran of the National Park Service.
Anderson responded to the assistance call, setting up a roadway blockade with her vehicle, as Barnes raced toward her. Barnes stopped his vehicle, got out, and opened fire, hitting Anderson several times. He then turned and opened fire at the pursuing ranger, hitting his vehicle several times with rifle rounds. Barnes then disappeared into the woods.
The initial responding ranger and sheriff's deputies located the three vehicles at an elevation of 3,000 feet, nearly 1,300 feet above the snow line.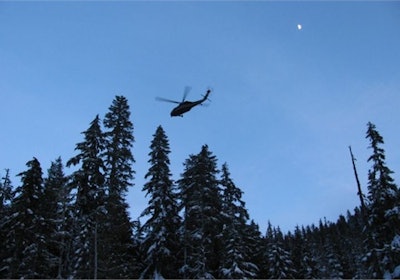 After the initial call came in, Pierce County Sheriff's SWAT team leader Sgt. Mark Berry immediately sent the agency's Lenco Bearcat—with 40-inch tires—and a small contingent of tactical officers to begin the hour-plus trip from headquarters.
After the remainder of his team reached the park, Sgt. Berry set up an incident command post at Longmire, the furthest point cell phones can receive signal. He then set up a tactical command post with his Tahoe SUV further up, near the three vehicle crime scenes. An officer rescue team reached the vehicles to recover Ranger Anderson, who had succumbed to her wounds. The team disabled the three vehicles, secured the ranger's weapons, and seized the weaponry from Barnes' vehicle.
They heard gunfire in a canyon. Shortly after midnight, tactical officers began evacuating the park to search for Barnes. The 125 tourists at the Jackson Visitor Center near Paradise were screened and released. Next, authorities needed to reach hikers and campers inside the park who were potential targets for Barnes' fury.
By now, multiple agencies were involved, including tactical teams sent by the FBI's Seattle field office and the Tacoma Police Department. A Border Patrol helicopter arrived to assist the search. An Oregon law enforcement agency sent a fixed-wing plane with FLIR thermal technology. But perhaps the most valuable asset was Sgt. Ted Holden, a game warden with the Washington Department of Fish and Wildlife. Sgt. Holden, an experienced tracker, helped tactical officers locate Barnes' tracks in the thick, wet snow.
Because Barnes didn't have snow shoes, his tracks were distinctive. He left leg and arm holes, indicating his attempts to push himself out of chest-high snow. As Barnes pressed onward with his rifle, the wet snow pressing against him was lowering his body temperature and increasing his risk of hypothermia.
To clear the park of hikers and campers, airborne officers dropped paper coffee cups with scrawled messages such as "A ranger has been shot, shooter at large." Another read, "Do not drive from Paradise without armed escort."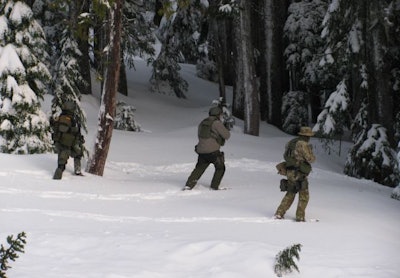 Tactical officers borrowed snow shoes from park service personnel and followed Barnes tracks through the snowy, rugged terrain. Tactical officers from each of the three teams began clearing specific areas and using hand-held thermal devices as the cloak of night fell on the park. By 2 a.m. on Monday, Sgt. Berry called off the search to rest his fatigued officers.
"It was dark, guys were cold," Sgt. Berry told POLICE Magazine. "They had been out on the mountain for 12 hours snowshoeing around. The chances of losing an operator were high, so we called the search until daylight."
Shortly before daybreak, SWAT officers put on their snow shoes and headed back into the search area. Using hand-held GPS devices, they returned to their positions to track Barnes. Eventually Pierce County Sheriff's deputies found Barnes face down in a river. The hunt was over.