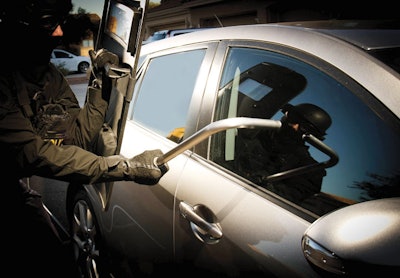 Editor's note: Please watch our video of the Shieldspike's Hammerspike in action.
The vehicle assault is an often taught but seldom executed tactic in SWAT operations. Because it occurs so infrequently, officers tend to overlook a major component in the success of the mission: defeating the vehicle glass. This is important to allow a clear and unobscured view inside the compartment of the vehicle so the problem can be resolved with no loss of life to the hostage(s) and operators, and can be a challenge for many reasons. Fortunately, the Hammerspike makes breaking structure and vehicle glass much easier, whether for SWAT during an operation or for a first responder to rescue a trapped motorist.
When I asked SWAT members from various teams to describe their immediate action drill to defeat window glass on a vehicle assault, the answers varied. Many stated that they would shoot through the glass to get to the objective. Others said they would muzzle punch the glass with their rifle barrels to breach the window, and some simply have trained to execute vehicle assault tactics with the windows down and not thought about defeating the glass.
There are significant issues with all of these responses. Breaching is the foundation of most SWAT tactical operations. If the operators cannot get into a structure to solve the situation, then the team has failed in its mission. This concept is the same when the mission is a vehicle assault. Dynamic and violent, a close quarters battle with an armed suspect who has hostages leaves little room for error. The team assaulting the vehicle has to be fast, efficient, and precise, and most make-shift tools SWAT teams might use are not up to the task.
That's why Shieldspike has developed the Hammerspike specialty tool, designed specifically to eliminate the window glass in a building or vehicle.
This close-quarters tool weighs only 1.5 pounds and is easily deployed with one hand, which means you can use it while holding a ballistic shield for cover. And at 19 inches long, it has a short range of motion so it can be used in close quarters around other operators with no fear of hitting and injuring them.
The Hammerspike is also designed with a 90-degree-angle bend to act as a standoff to eliminate hand injuries from carry-over into the window. The standoff also guarantees positive penetration. Because the tool is lightweight, it can be swung forehand, backhand, and at odd angles with no difficulty. In fact, it can be used to breach several windows in rapid succession with no hesitation. Despite its relatively small size, the Hammerspike is durable, thanks to its stainless steel construction and a special heat-treated tip.
All of the Hammerspike's features translate into smooth, efficient deployment for breaking glass. If you don't believe me, watch the Police Product Test video on PoliceMag.com. Equipping a breacher with Shieldspike's Hammerspike tool to execute a vehicle assault increases a team's likelihood of success in the mission immensely. The Hammerspike is a fast and effective way to remove the glass barrier between your team and the immediate threat within a vehicle.
ShieldSpike Hammerspike Specs:
Weight: 1.5 pounds
Length: 19 inches
• One-handed operation
• Designed to effectively penetrate vehicle or structure glass with small swinging motions
• Can use to strike a window in any location to achieve a successful breach
• Keeps operator's hands away from breaking glass, preventing injury
• Can be carried alone or mounted onto existing shield with proprietary bracket
Price: $120
Christopher Ruscitti is a breacher with the Scottsdale (Ariz.) Police Department.