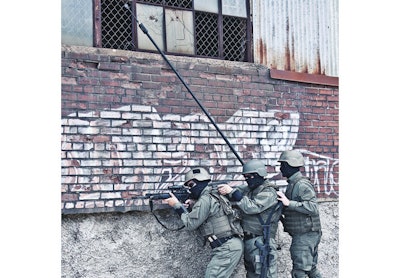 Tactical Electronics' LPSS3 pole camera is a great tool for SWAT operations and is designed so well anyone can use it. One of my SWAT team's biggest concerns during secondary searches or looking for barricaded suspects is the threat from elevated dark crawl spaces such as attic openings. While testing during live operations, this Long Pole Search System (hence the letters LPSS) was a wonderful help in minimizing team exposure.
When the device first arrived at the station, I found no instruction manual for the pole cam, but it didn't matter. After about 30 seconds of hands-on discovery, members of my team were able to add lithium batteries, install the articulating LED camera head, turn on the monitor, and fully extend the pole cam. The unit in the hands of a technology-challenged officer wasn't a problem. The design is genius.
It's also practical. On several occasions, my team deployed the LPSS3 to clear attics of houses we served search warrants on, and the device was easy to use. The wrist monitor that accompanied the pole cam was wireless, so the pole cam operator could watch the movement or hand the monitor over to another to view. Because the IR head proved to have adequate throw, we didn't need to expose ourselves by crawling up into attics to conduct the searches. In years past we used mirrors for this task, but the LPSS3 makes such practice seem archaic.
Telescoping segments that extend 20 feet allowed my team to extend the pole cam deep into crawl spaces. Even fully extended, the unit was very manageable and operating it wasn't too cumbersome for extended periods of time. A fully retracted LPSS3 could be thrown in a backpack or shoulder-mounted scabbard for a breaching shotgun and taken with you on every deployment. Its weight is negligible at just under four pounds.
The LPSS3 really set itself apart from the other pole cams I have tested. Its ability to remain small until deployed at the desired length and its lightweight composite material translate into less burden on the operator.
Overall, I think the LPSS3 is the Mercedes-Benz of pole cameras. The only concern I had with the unit was the inability to store its LED heads together with the telescoping body because there isn't enough room in the provided case. An improvement I'd suggest would be an adjustable Velcro strap for the wrist monitor instead of the supplied elastic fabric sleeve. This would give the monitor the ability to fasten to different sized arms, ballistic shield handles, or MOLLE webbing. But considering how useful I found the LPSS3 as is, it's hard to complain.
Tactical Electronics LPSS3 Pole Camera Specs:
Weight: 4 pounds (pole, camera unit, camera head attached)
Pole Length: 25.25 inches collapsed, 20 feet extended
Power supply: Three 3-volt lithium batteries (CR123A type)
Runtime: Approximately 2.5 hours
Housing Material: High-density polyethylene (HDPE), anodized aluminum
Operating Temperature Range: -10ºC to +50ºC, 95% humidity
Frequency Range: 2.4 to 2.485 Ghz (4-channel system)
Transmission Distance: Up to 400 feet line of sight
Compatible Monitors: Wrist-mounted monitor or handheld monitor
B/W Camera resolution: 420 TV lines horizontal resolution
Color Camera resolution: 380 TV lines
Recording Capacity: 16 hours on 16GB SD card (1GB/hour)
Kit Contents: Black telescoping long pole, pole camera transmitter, black-and-white camera head with 8 IR LEDs, monitoring option (handheld or wrist mounted), soft-sided carry bag, 16GB SD card
Price: $6,900 for kit with wrist-mounted or handheld monitor
Chris Trapp is an officer with the Phoenix (Ariz.) Police Department SWAT Team.