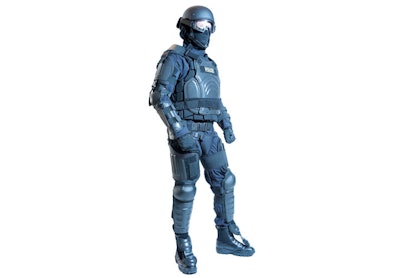 The last few years have presented law enforcement agencies in Arizona with a series of unexpected crowd control challenges. First came protests of the state's illegal immigration control law known as SB 1070, then the Occupy Movement staged demonstrations in and around Phoenix, and finally the primaries and the election resulted in mass gatherings with the potential to become law enforcement problems. In reaction to these challenges, several Phoenix-area agencies decided to join with the state's Department of Public Safety to create a regional team for crowd control operations.
"The concept was for every agency to have a core group of officers that can respond on a regional basis," says Lt. Todd Muilenberg of the Scottsdale Police Department. "Also when needed we can respond to help out DPS, Tempe, ASU (Arizona State University), or other agencies and all be on the same page with the same training and mostly the same equipment. The goal is to be interoperable so we can support each other."
Despite the concerns that led to the formation of the Scottsdale Rapid Response Team (formerly Mobile Field Force) and its regional counterparts, the unit has not yet been involved in any major operations. "Just smaller incidents," says Muilenberg, who commands the Scottsdale unit. But the Scottsdale RRT and the regional RRT are preparing to tackle much bigger problems, including civil unrest and natural disasters. "We are just trying to stay ahead of the issue and make sure that we are prepared for the worst, and hopefully we will never have to utilize a lot of our training and equipment," he explains.
Scottsdale's RRT was established with three squads of officers, plus supervisors and logistics support. Now it totals 40 officers, all trained in the latest crowd control techniques developed by FEMA's Center for Domestic Preparedness in Anniston, Ala.
In addition to the 40 officers on the RRT, all Scottsdale officers are trained in basic crowd control and can be called upon if needed. Only one problem: Their training is currently outdated. Muilenberg says he and the members of the RRT plan to start instructing their fellow officers on the latest crowd control techniques with modular training sessions later this winter.
The new training will de-emphasize the use of shields in crowd control operations. "Shields aren't as beneficial as we thought they were in the past," explains Muilenberg. "They tend to make really good targets for rocks and bottles."
Another advantage to not using shields is that the RRT can form and maneuver more quickly without them. The shields are usually carried in a trailer that has to be driven to the site of an incident. It takes time for the trailer to get on site and be unloaded, and then even more time for the shields to be distributed.
In contrast, the members of the RRT are responsible for having their gear available at all times, including basic patrol equipment, helmets, turtle gear (wearable armor that protects against thrown objects and blunt impacts), and gas masks. So they can be ready to form into a team just a few minutes after arriving on site. The shields stay in the trailer along with the 40mm launchers and grenadier go-bags, unless they are absolutely needed.
Currently, the Scottsdale RRT does not have dedicated vehicles. Muilenberg would like to have a tactical truck, but budgetary restraints make that unlikely. So for now RRT officers arrive at most incidents in their patrol cars and at larger incidents on buses. Their equipment trailer is towed into place by a Tahoe or a pickup truck.
Despite their lack of a team truck, the RRT is ready to respond with very little notice anywhere in the area. "Everybody on the team has cellphone pagers," Muilenberg says. "If anything happens regionally, the Rapid Response Team will be the first team to respond. Even if somebody as far away as Tucson needs assistance, we can get there. Anything major and we can go, we can help, we can bring in an established and trained team of officers that has supervision and logistics support."
Related:
Crowd Management: Preparing for the Storm