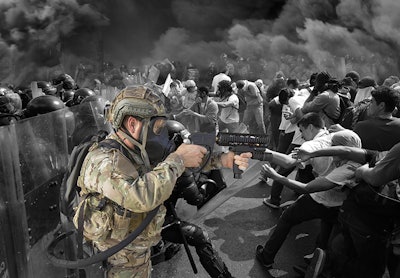 Working in a range of environments on a daily basis calls for eye protection that is as interchangeable as a law enforcement officer's duties.
Eyewear should be able to keep up with officers, who are constantly moving from the outdoors to indoors and day to night, as well as defend against the hazards involved with every call from true ballistic hazards to someone throwing something at an officer. While there are many eyewear manufacturers around, it's rare to see the law enforcement community in proper eye protection, according to Eye Safety Systems (ESS) Communications Specialist Ari Drougas.
The problem lies in that the industry lacks widely regulated enforcement by officers who demand that a higher level—or any standard level—of eye protection is necessary. "It is the one item in their kit that is left completely to their own discretion," Drougas says.
While ESS has produced interchangeable lenses since 2004, the Ketchum, Idaho-based company recently improved its tactical interchangeable-lens eyewear. The improved design is available in the company's new Rollbar Series ballistic sunglasses with interchangeable lenses, which are built to excel in extreme tactical conditions.
"Like its predecessors, the battle-proven CDI and CDI MAX, the Rollbar Series provides the protection and rapid adaptability that is critical for use in hostile environments," says Brian Ross, general manager at ESS. "This is a full-fledged military eye pro, wrapped in a modern sport sunglass."
Rollbar Series sunglasses can be worn both day and night. The eyewear's smoke gray lenses are ideal for daytime use, while its clear lenses work indoors or at night. All Rollbar Series lenses provide 100-percent UVA/UVB protection.
ESS plans to introduce a range of accessory lens colors, says Drougas, to "make the sunglasses adaptable to any light condition."
Many officers use transitional lenses to avoid having to manually change out the lenses as lighting situations change. However, the disadvantage is that when moving from outdoors to indoors the lenses remain dark for a few minutes. To avoid this, Drougas suggests moving to a completely new lens system. The Rollbar's wide peripheral vision and distortion-free lenses help ensure maximum performance with minimal eyestrain.
In addition, an auto-locking Rollbar Lens Gate allows for quick lens exchanges. The easy-to-use mechanism expedites lens swapping. Located where the lens and arms meet, the gate clicks open to swap out the lens and then automatically locks closed when the sunglass temple arms are extended. This action can be completed in less than 20 seconds, which can be critical in a tactical environment.
Because protective eyewear only works if it's worn, "having the right lens ensures officers won't remove the sunglasses and expose themselves to a hazard," Drougas says.
Additionally, ESS aims to minimize the desire to remove the eyewear with a sleek new design. Advanced in fit and comfort, the sunglasses won't interfere with hats, helmets, hearing protection, or communications devices. This eyewear accommodates all users with sizes available from medium to extra-large.
The Rollbar exceeds the most recent ANSI 2010 standards and is compliant with military standards. The kit, which includes the frame, two pairs of lenses, a microfiber cleaning pouch, and a hard case, is available for $115.