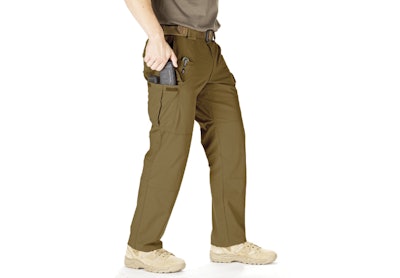 5.11 Tactical has always impressed me with its clothing. I have several pairs of their pants in my closet; some dating back a decade. They're comfortable and can take a beating. Recently they sent me another to add to my collection; their new STRYKE Pants with Flex-Tac ripstop fabric.
Now, I am a regular wearer of "tactical" pants. I spend a ton of time on the range as well as at the front of the classroom and have a genuine use for the features they provide. Lots of pockets, ample flexibility, comfort, and good protection from the terrain and elements, all of which are necessary.
Just like a good pair of running shoes, finding this type of pants in a size and cut that fit just right is a long process of trial and error. Trust me, along with my 5.11s, I've got more than a couple pairs in my closet that never fit quite right. Where most tactical pants fall short are lack of flexibility and a cut that is just too baggy. Parachute pants went out of style a long time ago, and I'm really not interested in being the guy who brings them back.
Right out of the bag I was impressed with the STRYKE Pants. The fit and finish is outstanding and the ripstop material is soft yet sturdy. The stitching, pockets, closures are very clean and obviously a step above basic BDUs.
I put them on (thanks to 5.11 for sending me the perfect size) and headed to work for their first full day of use and abuse, and I was immediately sold. These pants are just about perfect in my book. The lack of flexibility and "bagginess" I've had a problem with in the past? Gone. The Flex-Tac fabric stretches with the wearer's movement, so no matter what position you're in, these pants don't constrict at all. Helping this along is the self-adjusting waistband that also stretches to give a little extra room.
The cut is slimmer than traditional 5.11 pants but certainly not in the arena of "skinny jeans." I'm 6-foot 1–inches tall and 225 pounds and these pants fit me very well. They provide a tailored look with ample room to be comfortable, without being too slim. The fabric is also very breathable and kept me very cool and dry in the Arizona heat.
Now for the functional features of these pants; the pockets. If you have a need for tactical pants its because you need a lot of pockets to carry a lot of gear, the STRYKE Pants deliver. I've counted eight of them, all good sized and ideally placed. The first two are obvious; left- and right-side pockets with slant openings, and deep enough for a set of keys and a spare magazine to fit alongside your hands.
In front of those are two smaller vertical pockets with horizontal openings. These are the perfect size for a cell phone or a pocketknife. The rear pockets are average sized and have clean, double-stitched flaps with closures to keep your wallet secure. Finally, we come to the side cargo pockets. These are what make the STRYKE Pants true tactical pants and bear the bulk of the workload.
Both pockets are ample sized and placed higher on the thigh than those on other tactical pants, keeping the gear inside secure to the body and providing a cleaner appearance. This also helps the wearer retrieve that gear without having to bend to the side to reach the bottom of the pocket. Inside of each are a series of smaller pockets for organizing small items like another spare magazine (you can never have too many, right?) or a flashlight. The flap enclosures are also double-stitched and secured with hook-and-loop tabs to keep everything in place.
I've been wearing these pants twice a week for about a month now and I'm still as impressed as I was when they were new. They look clean and professional and stay wrinkle free all day long. If they're anything as durable as my other 5.11s, I'll be wearing these for a long time to come. I may even add a couple more pairs to the line-up. If you're looking for a tactical pant that is as much at home on the range as in a professional setting, STRYKE Pants are an excellent choice.
A.J. George is an officer with the Scottsdale (Ariz.) Police Department currently assigned to the advanced training unit as a firearms and tactics instructor.